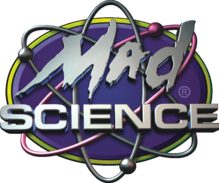 Who's Mad Science?
Mad Science South Wales & Bristol are on a mission to deliver our fun,
exciting & interactive science to children of all ages. 

Our unique party packages, aftersschool programmes, workshops and special events guarantee young people will be more engaged and excited by science through our interactive, hands-on and enquiry based learning.
Children of all ages are immersed in science during any Mad Science event 
or activitiy. Be it making ooey gooey slime using polymers or wondering in
awe at our dry ice-capades, they're sure to have a blast! 

We've had the pleasure to inspire thousands of school children since starting our mission in 2011 - delivering unique and interactive science experiences to children through our comprehensive range of:
After-school Programmes
In-class Workshops
Birthday Parties
Summer and Holiday Camps
Special Events
Corporate Events
Check out the website for full details of all we have to offer